Smart Speaker Showdown: Apple Homepod vs Amazon Echo vs Google HomeMax vs Sonos
Smart speakers, like smart appliances, are an emerging market and consumer choices have skyrocketed lately. Tech giants like Apple, Amazon, and Google are entering an already crowded space with their own creations. Read our review on the latest smart speakers and find out which system is best for your home!
What are smart speakers and what can you do with them?
Any speaker that does anything beyond producing sound can technically be labelled a smart speaker but the latest offerings from tech giants offer a whole lot more to justify their 'smart' label. Smart speakers offer voice activated controls through the use of artificial intelligence. Current smart speakers like the Apple Homepod allow you to do a lot more than simply play back music. For example, through voice activation you can use them to control your home lighting or thermostat, ask for a weather report, book a table at a restaurant, lookup a quick recipe, or even tell you a joke. As the technology matures expect these devices to become the control center of your home and life in ever more increasing ways. Think about them as like having your own personal assistant (and DJ)!
Below we cover each device to help you discover which one is ideal for you.
Sonos One Review
Sonos was founded in 2002 and quickly became a leader in distributed wireless home audio. The company had been promising to bring smart features to their wireless speaker range and has finally delivered with the Sonos One by partnering with Amazon and offering Alexa (Amazon's digital voice assistant). It lacks the full functionality of an Amazon Echo (such as phone calls) but it has enough to get you going and playing back music via voice commands from certain services. Sonos has also said it will be partnering with Google so you'll have your choice of voice assistants. AirPlay 2 support has also been promised for 2018.
The touch controls are conveniently located on the top and it's inconspicuous design will blend into any home decor. A nice feature of the Sonos One compared to other devices is that it emits an audible beep when Alexa hears it's name, this is a great feature that lets you know Alexa is ready to listen. The One is also capable of running as a wireless speaker only without any voice assistance so if you decide you don't want to use Alexa you can continue to use it as a speaker. Finally, Sonos supports all major streaming platforms so you are not locked into any one particular service. This feature alone might be enough for a music lover to pick the Sonos while sacrificing some smart technology.
Sound quality is decent for the price point but lacks any kind of mid-bass, much less so compared to the Apple Homepod. Another advantage to the Sonos One is if you are planning on adding more devices throughout your house then Sonos will allow you to link and control them all through one seamless interface. Perfect for those seeking a multi-room audio solution.
Pick the Sonos One if:
+You already have Sonos players throughout your house or might to add more speakers soon
+Are interested in multiple music sources and music playback more than smart assistant features
+Are somewhat technical savvy, the Sonos/Alexa link currently requires some work and jumping between the two apps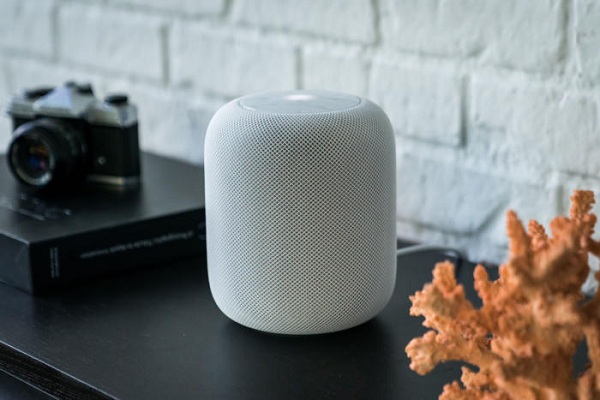 Apple's entry into the smart speaker market
Apple Homepod Review
Apple's first entry into the smart speaker market and they've done a lot of things right. This is easily the best sounding smart speaker available and you don't need to be an audiophile to hear the difference. It has a large number of small speakers (tweeter array) built in that emit sound in all directions at the same time, this helps the sound quality remain relatively consistent no matter where you are in the room. It's also the most powerful smart speaker available because it runs off the same computer as one found in an iPhone 6. Pretty impressive stuff and it proves Apple is serious about this market.
It looks great and the setup procedure is very simple and easy, more so if you're already using other Apple products. It optimizes the sound quality depending on where it's placed automatically and will even detect when you move it and re-calibrate. The touch controls are located on the top and LED lights glow to let you know when it's listening. Siri works well and we found it to be more attentive than on the iPhone or iWatch, this likely has to do with the multiple microphones located inside the Homepod.
The main thing limiting Apple Homepod right now is in smart features. In our tests Siri understood what we were asking better and more often than Alexa or Google but is limited in what it can do. A lot of things possible with Siri on the iPhone or iWatch don't work on the Homepod yet and it leads to some frustrations when you continue to hear it say "I can't do that on Homepod.", which would be okay if it were to handoff to your phone or watch but it doesn't do that either. But the worst thing for us about the Homepod? The fact that it can't recognize multiple voices, meaning anyone and everyone can talk to it and have access to things like your messages. We can see this being a huge problem for some people, especially people living with roommates.
Hopefully these limitations will be addressed in future updates.
Pick the Apple Homepod if:
+You're already invested into Apple products at home and you only use Apple Music then this is a no-brainer
+Want the absolute best sound quality available today
+Are concerned about privacy, Apple doesn't need to make money off advertisements like Google and Amazon. The Homepod is not listening all the time unlike the competition.
+Want to send and read messages using the Homepod and don't have multiple individuals in your house
Amazon Echo Review

Amazon's Echo leans more towards the smart side of functions than pure audio quality. Alexa, Amazon's personal assistant built into the Echo, is the most advanced smart assistant available at present. Alexa can currently do over 15,000 skills on the Alexa app store and works with virtually any smart home device available. It also you to control a variety of music streaming services (except Apple Music).
The design leaves much to be desired as it looks more like a futuristic salt shaker than a modern smart speaker, the production quality also gives it a somewhat cheap feel. The Amazon Echo supports voice recognition for multiple people although it doesn't work quite as well as Google's solution. A worthwhile feature is the creation of "Routines", these allow you to set up phrases that perform multiple tasks at once. For instance you can setup a phrase that starts playing music and dims the lights in your room at the same time. Finally, the simple call "Alexa" to interact with the device is quick and easy.
Sound quality is rather poor, nothing in the way of HiFi but that's to be expected as it's more a smart appliance than a speaker.
Pick the Amazon Alexa if:
+You already do a lot of shopping on Amazon and are looking for more of a personal assistant device than a speaker
+Are somewhat tech savvy as the initial setup procedure leaves much to be desired and is not as intuitive as the others
Google Home Max Review
The Home Max offers a fantastic smart assistant experience overall and decent sound quality. One of the key features here is that the Home Max can be used as a voice activated search engine, one that can even handle follow-up questions. It can also be configured to work with six different people and it keeps a track of each individuals preferences.
While lacking in the level of integrations offered by Alexa it has most of the things people will need covered and more integrations than the Apple HomePod currently. Multiple streaming sources are supported except Apple Music. The initial setup procedure and configuring multiple voices is very easy and intuitive and the app used to control the device is nicely designed.
The size and bulk is awkward and not as streamlined as the competitions (it's heavy at 12 pounds!) and the materials up-close appear cheap in quality. The sound quality is decent but behind both Sonos and Apple HomePod, it lacks mid-range and depending on where it's placed can come across sounding boomy. Another thing to note is that the Home Max is a mono-only speaker, meaning no stereo sound.
Pick the Google Home Max if:
+You are already inside the Android echosphere
+You really want to be able to conduct searches and will have multiple users in the house using the Google assistant
+You don't mind the bulky size and have a place for it